BILSTEIN Motorsport claims more victories!
The Pauch racing father/son duo of Billy Pauch Sr. and Jr. have been a strong presence in modifieds, this year their efforts really paid off with a historic double championship!
"Between my dad and I, we were able to set history this year using BILSTEIN shocks – we were both modified track champions at two separate tracks in the same division and two different tracks in New Jersey at Bridgeport and New Egypt."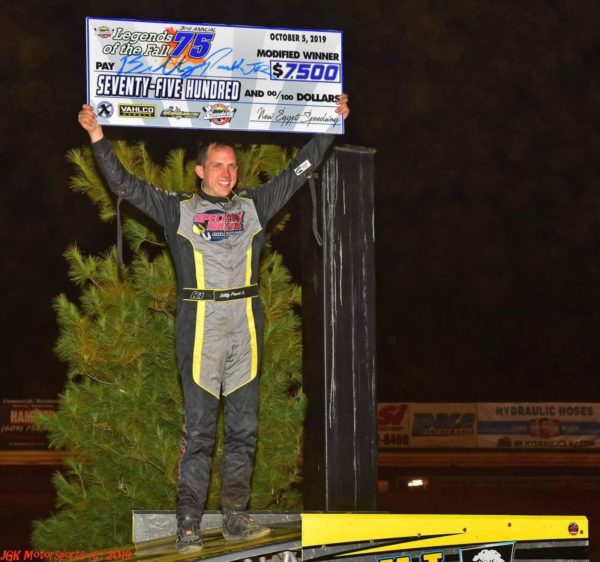 "This has only happened twice before and that was in sprint cars. BILSTEIN has been a huge part of our success, as Tim and the motorsport department go above and beyond to help us," Billy Pauch Jr explained.
Evolving track conditions can plague the well-tuned setup of any racing team, being able to adapt and tune in the field and on the fly is one element the Pauch family relies on BILSTEIN to ensure continued suspension development.
"The most challenging part of winning the championships are the ever changing track conditions in dirt race and the different challenges you face along the way. With BILSTEIN support, we have been able to build shocks for all type of track conditions and tailor them to work best for all of them."
The Pauch's both run on BILSTEIN XVA shocks. XVA Series dampers are lightweight modular aluminum shock absorbers that feature a large bulb cap for maximum nitrogen capacity. The dual zone bulb helps maximize grip levels by controlling gas pressure ramp-up and optimizes travel lengths. Available in a variety of stroke lengths and levels of adjustability, these dry kits also have a base valve option for ultra-low rod pressure applications.
"It has been a pleasure to have such a great opportunity to work with a legendary family such as the Pauch's. They are a staple in the racing community and BILSTEIN has become a key component to their continued success. We are looking forward to many more years and wins with the family and can't wait to help the latest generation start his racing career," explained Tim Godshall of the BILSTEIN Motorsport team.